Report by Martin Delahunty
Graigue Ballycallan 4-6   Rower-Inistioge 0-11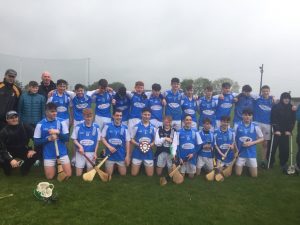 Graigue Ballycallan finished out their busy League schedule with a little silverware after getting the better of southern stronghold Rower-Inistioge in the Shield Final. The game was played in very difficult conditions with persistent rain falling all through, but this was certainly not to dampen the enthusiasm from both sets of players.
After a frantic early five minutes both teams settled into their stride with the Graigue lads netting from a neat ground stroke from Paddy Brennan. The Rower were quick to answer with 2 points from frees and their centre forward was going hard to get a hold on this game. But once again the defence which has consistently performed well all throughout the League campaign rose to the challenge and eventually got enough supply to the forward line to build a 7 point lead at the break. 
The second 30 was to play out much the same with lots of tough individual battles being played out all over the pitch, there was no backing down from the Graigue lads and at the final whistle had deservedly done enough to hold out on a score line of 4-6 to 11 points.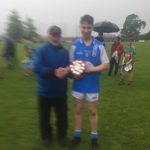 Scorers -Oisín Egan 2-3, Scott Lawlor 1-1, Daniel Lawlor 0-1, Stephen Keoghan 0-1 and Paddy Brennan 1-0. So a little silverware was received by team captain Stephen Keoghan and this will surely give this group the confidence and the extra desire to give the Championship a right rattle later in the summer months. They will take a deserved  breather now for exams and will return in a few weeks to prepare for this championship.
Panel – Jack Walton, JJ Ryan, Eoin Delahunty, Dan Cahill, Craig, Scott and Daniel Lawlor, Jason O'Brien, Stephen Keoghan, Eamon Corcoran, Simon O'Dwyer, Paddy Brennan, John Muldowney, Finn Lanigan, Oisín Egan, Euan McLaughlin, Jack Butler, Mark Brennan, Tom Brennan, Bill Jackson, Sam Jackson, Shane Comerford, Brendan Dunne