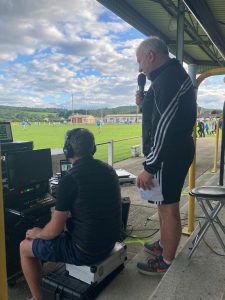 GBC made the trip to Freshford for the opening round of the St. Canice's Credit Union Senior Hurling League against Clara on Friday evening 31st July 2020.
Playing against the wind in the first half, GBC opened the scoring with a Sean Ryan free within the first minute but it didn't take long for Clara to get into the game to leave the score after 8 minutes 0-1 to 0-4. After 12 minutes Sean Ryan won a great ball, played it across the field to Jesse Roberts who controlled it very well and score a fine point from play. 0-2 to 0-4. Within 2 minutes a short puck out from Ciaran Hoyne to James Ryall who found Jesse Roberts on the left wing, scored another fine point. 0-3 to 0-4. After the water break that man again Jesse Roberts, who was causing serious problems for the Clara half back line, scored another great point from play. 0-4 to 0-4. From there on in, Clara had the better of GBC and out scored GBC 1-6 to 0-3 leaving the halftime score 1-10 to 0-7 to Clara.
In the second half GBC had a great start with some fine free-taking from Sean Ryan and a great point from play, with Colum Prendiville chipping in with a point also. A long-range free from Ciaran Hoyne left Clara worried as they made a few subs to maybe get things under control. The scoreline at the water break 0-15 – 1-13 to Clara, with GBC hurling very well. The water break coming at the wrong time for GBC, Clara got a firm grip on the game and won on a scoreline of 1-21 to 0-16.
In the words of the great Tom Ryall, Graigue Ballycallan "Tried hard, with little reward…."
Even though GBC were on the wrong side of the scoreline at full time, we can take a lot of positives from the game with Stephen Keoghan, Tom Dunphy and Oisín Egan making their senior debut, all hurling very well.  With some of our experienced players like Billy Ryan, Conor Murphy, Bob Murphy, Aaron Brennan and Tommy Ronan all out through injury to come back into the fold, we will have better days ahead.
Team: Ciaran Hoyne, Darragh Egan, Conor Flynn, Stephen Keoghan, Tom Dunphy, Eamonn Egan, James Ryall, Killian Egan, Philip Cahill, Colum Prendiville, Shane Butler, Jesse Roberts, Sean Ryan, Richie Keoghan, Oisín Egan.
Subs: Richie O'Neill, Bob Murphy, Willie O'Connor, Simon O'Dywer, Adam O'Brien, Vinny Teehan, Ciaran Hogan, Sean O'Dywer, Tommy Ronan.
Sub used: Sean O'Dywer for Richie Keoghan.
Scorers: Sean Ryan 0-10 (9 frees) Jesse Roberts 0-4 Colum Prendiville 0-1 Ciaran Hoyne 0-1 (free)
Report by Noel Brett