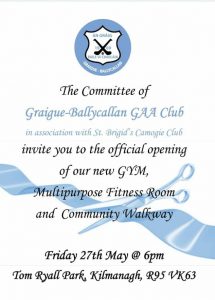 Friday 27th May 2022 at 6pm will see the Official Opening of the new Gym, Multipuropse Fitness Room and Community Walkway at Tom Ryall Park Kilmanagh. Everyone welcome!
We will be providing refreshments and all donations of baking would be greatly appreciated. All help welcome in the kitchen also – please contact Louise 085 1051650 or Martina 087 4139228 if you would like to help.
Looking forward to seeing you all.
Click on the link below to to view some photos from the night