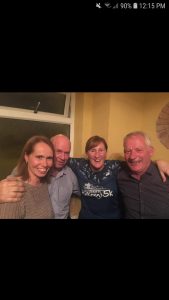 A great night was had on Holy Thursday night in The Pound Ballycallan. A great turnout with 20 tables. A huge thank you to the McGrath family for organisation, premises, food and prizes. A thank you to Billy Neary for being quiz master on the night and to Anne Murphy and Siobhan O'Brien for doing corrections. Thanks to any one who helped in anyway on the night and to everyone who donated prizes and made sandwiches, much appreciated. Thank you to Avonmore and Celine Egan for sponsoring quiz prizes.
Well done to the winning team of James Cahill, Mary Murphy, Mary McCluskey and Sean Casey who received an Avonmore Hamper each.
Congrats to the runner up team of Carmel Everard, Conor Everard, Martina Butler and Padraig Flatherty who were also the lucky pick a table winners also receiving a Pennyfeather voucher and bottle of wine each.
Raffle winners on the night were Michelle O'Regan, Roisin Casey, Annette Wall, Robbie Lynch, Dave Walton, Kevin Ging, Joan Purcell, Bree Harrison, Grace Delahunty, Kathleen Cahill, Ann Fitzpatrick, Ellen Murphy, Tom Brennan, Aoife Murphy, Eileen Heafey, Nellie Ryall, Charlie McCluskey, Martina Teehan, Anne Flatherty, Joan Teehan, James Cahill and Miriam Purcell.
Thanks again for all the support.