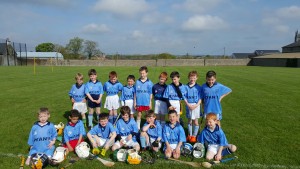 An 18 strong U8 panel played 3 matches on an overcast morning in St Kierans college on Sunday 8th May 2016
First up were Galmoy and a great team effort from back to front resulted in a big win with the goals flowing freely. The Midfield and Forward lines showed some great touches especially in the second half when they could rise the ball.
Next up were Dicksboro and again a great display of ground hurling by the defence in the first half set up a comfortable victory in the second half.  
Last up were the boys from James Stephens. Following some stout defending and great goalkeeping on both sides the match ended in a great victory by four points for Graigue Ballycallan. 
This is a great start and augers well for the rest of the year. The manner of the victory over James Stephens showed the great progress the lads have made since they went back training. 
The boys were delighted when Kilkenny senior hurler Jonjo Farrell presented them with their medals.
Special thanks to our first aid ladies who were on hand with the ice packs and all the supporters on the sideline for the great support.
Panel: Martin Wall, Ben McEvoy, Nathan Young, Cian Ronan, Andrew Tector, Shane Hogan, David Walton, Luke Hayes, Aidan Ging, Sean East, Keelan Lynch, Sean O'Halloran, Cormac Neary, Sean O'Dea, Tom Brennan, Joshua Malone, Dara Barut, Michael Tynan.