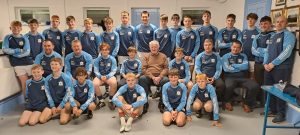 We have 2 very exciting County Finals to look forward to this weekend.
First up is U15 B Final v Thomastown on Saturday 22nd October 2022 at 1.30pm in Dunmore
Then we head to Clara for the U19 B Final v Glenmore at 4pm.
We would like to wish both teams the very best of luck and would encourage as many as possible to come out and support the lads!
Pictured above is Club stalwart Kieran Hoyne who presented the U15 team and mentors with their tops for the final!
GBC ABÚ