Report by Phil Maher
Graigue Ballycallan, Galmoy, Freshford and Tullaroan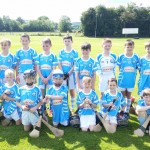 Graigue Ballycallan U10's were invited to Tullaroan's Field Day to play in a mini blitz on Sunday 29th August. With a full squad available, we were confident of a good performance and it didn't disappoint with the team making it to the final.
The first game was against Freshford and Graigue made great use of the wind in the first half, enjoying a comfortable lead to the break. The wind assisted Freshford in the second half as they gradually clawed back their deficit.  However, a few well-crafted points from Ben Young and relentless defending from Paidí, Sean and Robbie kept the home team ahead to the final whistle. Score ended Graigue Ballycallan 0–7 to Freshford 1–2 and this win was made all the more enjoyable as the team had to dig deep to hold their lead.
Tullaroan won their first match against Galmoy and this led to the final that everyone was waiting for with Graigue taking on Tullaroan. This time around GBC fought against the breeze in the first half and thereby Tullaroan had a comfortable lead by half time. With a strong team talk at half time and a few positional changes GBC worked their socks off for the remainder of the game and in the end fell short by 3 points. Final score was Graigue Ballycallan 6–1 to Tullaroan 4-10 and the latter tally was scored by one incredible chap, Killian Brennan, who gave a tremendous performance.
The day ended with the presentation of medals from two hurling legends Tommy and Padraig Walsh who were very generous with their time. Overall, it was a really enjoyable day with great hospitality shown from our neighbours.
The team were as follows; Shane Cody, Ben Young, Aidan Comerford, Donnacha Cleere, Sean McGrath, Cillian Hoyne, Frank McCluskey, Paidí Egan, Eoghan Cahill, Robbie Tector, James O'Halloran, Tony Butler, Chris Mahoney, JJ Maher and Robbie Lynch.  Group Photograph available if anyone would like a copy and hopefully our two modest coaches will step in for a photo with the team before the year is out.