Report by Martin Delahunty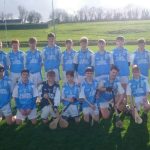 Graigue Ballycallan U16s are preparing well for their upcoming League campaign. Under new management of Philip Heafey and Tommy Manogue, they've played two competitive challenge games against Roinn A opposition in St. Martins and Kilmacow. Training has gone well in the Loreto all-weather and are now back in Tom Ryall Park with the League first round approaching fast.
Upcoming fixtures – Home v Galmoy/Windgap Mon 27th March, Away v Tullaroan Friday 31st March, Home v Tullogher Monday April 3rd.
Team Pic v Kilmacow in WIT – Back L- R. Craig Lawlor, Eamonn Corcoran, JJ Ryan, Oisín Egan, Eoin Delahunty, Dan Cahill, Jason O'Brien, Paddy Brennan, Mark Brennan, Finn Lanigan, Euan McLoughlin. Front L- R Simon O'Dwyer, Scott Lawlor, Jack Walton, Jack Butler, John Muldowney, Stephen Keoghan, Sam Jackson, Bill Jackson