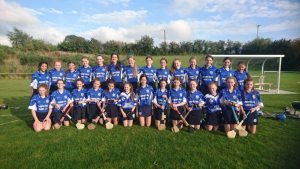 The U14 girls have finished up for this year, all girls were only brilliant. Started off with Féile getting into a Final against the Boro making these St. Brigid's U14s second best for Kilkenny. We had another Féile in Clara, this was for all teams that were second in their county. We played Dublin, Tipperary and Galway, a brilliant day was had by all.We had our League, winning all matches except one. Next was Championship, we got to the Semi Final against Conahy. What a game this was, ever girl playing brilliantly. The hooking, blocking, running and hand passing was brilliant. We got to 3 minutes to go, Conahy got three points giving them the win, girls ye all play that game with a great team play. The performance was top class. What a year with the help of the U12 older girls 👏
A great team was formed for 2019. Keep up the great work girls, St. Brigid's are very proud of you all. Thanks to all the parents for their support and all who came to games. A big thanks to Maurice and Johnny for helping us with pitch 👏👏 Look out for these U14 girls, they have and will always make St. Brigid's proud, team work always 👏👏👏
Thanks from – Mary, Ann Marie and Bridget 👍👍👍.