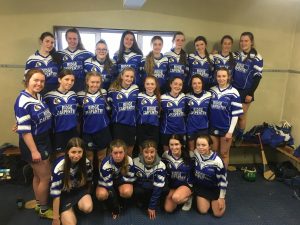 2019 U16 St. Brigid's camogie and there were huge expectations for 2019. Why? Well as 2018 Roinn A champions after our memorable win over Thomastown in Bennettsbridge this was a grade where we enjoyed success. We lost a number of key players from 2018 but still held on to the majority of the 2018 panel, so we were quietly confident of doing well. Unfortunately we were dealt a cruel wrong when we lost our excellent goalie Ellie O'Neill to the dreaded cruciate injury for 2019.
Thankfully as we write this article Ellie is making huge strides and expects to be fully fit and back playing camogie in 2020.
Losing your goalie at any level is never easy but we found an excellent replacement in Caragh Keating and from February we returned to St. Patrick's School for indoor gym sessions.
We had 8 weeks in St. Patrick's with numbers increasing weekly and everyone enjoying the music!
The 2019 League started in April and we had some mighty team and individual performances during the year.
Round 1: 
St. Brigid's 5-8 
DDicksboro 2-5
Round 2: 
St. Brigid's 8-12 
John Lockes 3-0
Round 3: 
St. Brigid's 7-17 
Piltown 1-7
Round 4: 
St. Brigid's 4-17 
Thomastown 5-0
Round 5: 
Clara 7-8 
St. Brigid's 4-7
Round 6: 
St. Brigid's 8-12 
James Stephens 2-8
Round 7: 
St. Brigid's 2-13 
Glenmore 2-6
League Final: 
Clara 3-15 
St. Brigid's 2-2
Our 2019 League results were excellent, we played 8, won 6 and lost 2, both to Clara in the League and League Final.
Championship 2019: After a great league campaign our championship expectations were encouraging. Our quarter final game was against Thomastown where we needed to be at our best as Thomastown had some outstanding individuals who could cause serious damage with a hurling ball. Some positional changes were required for this fixture and after a nervous opening 15 minutes we finished winning on a scoreline of 6-13 to 1-11.
A month later and we came up against James Stephens in the semi-final. Sourcing a venue became difficult. After numerous calls St. Kieran's College came up trumps and on a cold wet Saturday evening we prevailed but not after a tough hour's camogie. James Stephens came out of the traps early and attacked the St. Brigid's goal for the opening 15 minutes. St. Brigid's, led by Caragh Keating on goal and defenders Moya O'Brien, Robin Delaney and Kate McCluskey held them at bay. With a plentiful supply of ball now coming from Claire Doheny and Margaret Maher the forwards began to click. Lauren East, Ellie Lanigan, Caoimhe Young and Ava Brett made sure that Leah Brett and Lauren Ronan could have no excuses when it came to scores and they duly obliged. Final score St. Brigid's 3-11 James Stephens 1-5
County Final 2019 and some of these girls were playing in their 3rd U16 County Final in a row after losing Roinn B in 2017 and winning Roinn A in 2018. Dicksboro were the opponents and the fancied team after they overcame favourites Clara in the other semi-final. On a damp soft day in Danesfort we met a more determined and hungrier team. We played against the wind, rain and up the hill in first half and were down 5 points to 1 point. That wasn't a bad 30 minutes hurling and we all felt that with the elements now on our backs we had a great chance to prevail. The second half started and Dicksboro pointed 6 points to 1 point and for the next 10 minutes we owned the ball, missing 1 goal and 2 points that on another day would have been scored. Then came the turning point, a disallowed goal for a square ball after Ellie Lanigan was adjudged to have been in the square. The Boro go up the field to score a great goal now 1-6 to 2 points when maybe just maybe it should have been 6 points to 1-3. That's the ifs and buts of sport. Dicksboro finished out the game and won on a score line of 1-8 to 0-2.
Dicksboro were the deserving U16 Roinn A champions of 2019. On a disappointing end to the championship the performance was back on where we needed to be. On the day we had great performances from Caragh Keating, Roisin Casey, Recce Delaney, Katie Maher and Aoife Power.
To the U16 St. Brigid's girls of 2019 they gave their all over a 10 month period. It possibly proved to be too long a year, that's the joys of been successful so that's no excuse. The year was nearly as good as 2018 only we came up short in both County finals in Oct and Nov. It was a tremendous achievement to reach both finals after doing the same in 2018. The future is bright for camogie in the club with huge work being done at all ages. There is no doubt if the panels of 2017-18-19-20 stay together continue to work hard, stay fit and enjoy the challenges well there is huge hope for Adult camogie in the club. Thanks for another memorable year while disappointing not to take home the silverware we have to accept that you can't win them all.
Huge thanks to the camogie club committee for all their endless work, to the parents, supporters, umpires medics and referees. The girls were kitted out and fed brilliantly for the final, huge thanks to all concerned (Padraig Mac). Finally to all 4 mentors Mary East, Ann-Marie Hoyne, Mick Wall and Adrian Ronan thank you for hours of enjoyment.
TEAM 1.Caragh Keating 2. Roisin Casey 3. Moya O'Brien 4. Robin Delaney 5. Recce Delaney 6. Kate McCluskey 7. Katie Maher 8. Ava Brett 9. Claire Doheny 10. Lauren East 11. Margaret Maher 12. Aoife Power 13. Lauren Ronan 14. Leah Brett 15. Ellie Lanigan . 16. Abby o Keeffe. 17. Caoimhe Cahill 18. Caoimhe Young 19. Molly Dunne. 20. Stephaine Brennan 21. Ella Delahunty 22. Sarah Dowling 23. Ellie O'Neill.