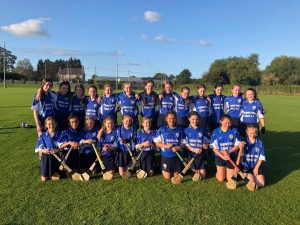 Congratulations to our U12 team who are through to the final after a fantastic win over Dicksboro in the Semi Final last Friday 13th September. It was a superb display of camogie with fierce defending from the backs and goalie and serious scoring from all of our forwards. The determination and workrate that all players put in was phenomenal.
Final score: 9-6 to 3-2.
Scorers: Nicola Kenny 2-1, Siobhan Kenny 2-1, Joanne Brennan 2-0, Katie Ronan 2-1, Roisin Foley 1-0, Tara Cody 0-2, Mollie Conroy 0-1.
Thank you very much to all who came to support the girls. They now hope to continue their unbeaten record and bring home the title of U12 champions. They will face John Lockes in the Final. Details to be confirmed. Keep an eye on the page and texts for details regarding the final.
The future is certainly bright for St Brigid's thanks to these young stars!